Here's where you can find professional, real estate, mortgage articles.
No hidden advertising.
Copyright-free for subscribers.
You don't have to give PagesMag.com credit.
Use your own byline on any article.
Change anything in any article.
Our pop-in mini layouts save time.
Cartoons, puzzles, Trivia
Get your password access in 5 minutes.
Ready-to-go newsletter articles.
"Great Resource"
Housecalls has been a great resource for keeping in touch with clients and the personalization couldn't be easier! 
Andrea Greenwalt
Ready-for-you Real Estate, mortgage content.
Tired of searching everywhere for ideas or that great nugget of content, the perfect picture or photo for your newsletter?
Perfect for real estate and mortgage professionals.
Let PagesMag.com help you with real estate and mortgage newsletter articles and images  — all easy to copy-and-paste into your email or print newsletter.
More than just business.
We don't always talk business, though. You'll find stories on home improvement, design, remodeling, plus those quirky stories that catch the eye.
You'll get all the extras that make a newsletter fun to do and attractive. You'll find banners, borders, cakes, monthly headers, cartoons, puzzles, trivia, borders and boxes.
Get a free sample, now!
For free sample newsletter articles and art, click on the button below. You will have free online access to the more than 60 articles, plus illustrations and photos, cartoons and puzzles you can use in your newsletter. The free sample is from actual monthly content issues of PagesMag.com.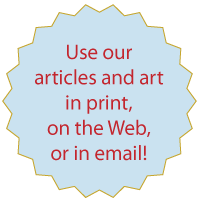 Four to six business articles every month.
 Four to eight seasonal articles.
 Two to four travel and vacation articles each issue.
 Copyright-free for subscribers.
 Articles in 12 categories.
 Put your own byline on articles.
 Use anything in print, Web, email.
 Thousands of  photographs and art pieces for print.
 Images for Web and email. Many to choose from.
Pages Editorial Service (PagesMag.com) has been a newsletter content provider for 50 years.